Beauty & Self
Books & Music
Career
Computers
Education
Family
Food & Wine
Health & Fitness
Hobbies & Crafts
Home & Garden
Money
News & Politics
Relationships
Religion & Spirituality
Sports
Travel & Culture
TV & Movies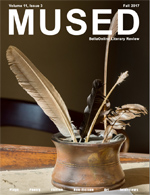 Autumn is a season for counting our blessings. For realizing just how much we have in life where so many others are without. It can often be easy to take things for granted. Things which millions of people desperately dream of having. By pausing for a moment, and looking around with mindfulness, we can find a new center. Begin with fresh energy.

Enjoy the Mused Autumn Equinox 2017 Issue



Carrot Halwa Recipe
Indian Food - Sadhana Ginde, Editor

Hmm, carrots for dessert? Really?!? Only in India :-) My easy to prepare Carrot Halwa is a delicious & beloved dessert enjoyed throughout the country. This traditional dessert may sound strange, but trust me - one heavenly little bite, and you will be hooked for sure - so try it soon!




Pasadena's Suicide Bridge
California - Korie Beth Brown, Ph.D. , Editor

Another ghost tale to celebrate the autumn season in California!




Changing Yarn Weights in Sweater Patterns
Knitting - Korie Beth Brown, Ph.D., Editor

Prefer DK to bulky sweaters, but love a certain pattern? Re-size it and make it your own!




Review of Mindfulness - An Everyday Guide
Yoga - Korie Beth Brown, Editor

This single issue publication is a fast read covering a number of subjects related to yoga and meditation. What it includes in breadth it unfortunately lacks in depth, however. Should you purchase it? Read on for more information.




Jack Stack Burnt Ends Review
Sandwiches - Connie Mistler Davidson, Editor

Have you ever been craving a burnt end sandwich, but you just couldn't face leaving the house to go out to eat? Jack Stack Burnt Ends are available at Costco in a 2-pack with sauce and burnt ends. Each pack has a pound of the meat and sauce for a total of 2 pounds of smoky barbecue goodness. Yummy!




Quinoa Jambalaya Soup Recipe for ADD Nutrition
Attention Deficit Disorder - Connie Mistler Davidson, Editor

Quinoa Jambalaya Soup is not the customary recipe, it has its roots firmly in the flavors of the Creole flavor tradition. My recipe is truly a hearty soup made with quinoa and chicken sausage to improve the nutritional profile. Use your ADD creativity to play with this recipe to make it your own!


| Google+ |
E D I T O R R E C O M M E N D E D
Fall in Love With Your Feminine Power


This 8-week DailyOm online course incorporates meditation, energy healing, and women´s energetics work to help you heal, empower and awaken your connection to your feminine energy body. It includes print materials, video, and guided audio meditation. No prior meditation or energy work experience necessary. Embrace your full power, health, joy, and spirit!
Addicted to Stress by Debbie Mandel


A Woman´s 7 Step Program to Reclaim Joy and Spontaneity in Life (Hardcover) In this highly original program for stress reduction, stress management expert and radio personality Debbie Mandel explains that women who are constantly stressed out have forgotten the dreams of the free-spirited girl living inside them before they became somebody's wife, mother, or workplace colleague.
Living Language Spanish


You don´t need to know Spanish to travel to the Southwest USA, but it will enhance your experience. This is the best-selling Spanish language instruction product at Amazon.com.