Beauty & Self
Books & Music
Career
Computers
Education
Family
Food & Wine
Health & Fitness
Hobbies & Crafts
Home & Garden
Money
News & Politics
Relationships
Religion & Spirituality
Sports
Travel & Culture
TV & Movies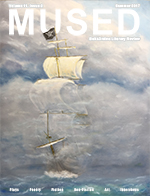 Our time on this Earth is fleeting and precious. We often know that in a vague, intellectual sense, and yet we can find ourselves whittling away those finite minutes without mindful thought. We should celebrate the beauty in a child's smile. The radiant sound of saying "I love you" to that special person. The warm touch of a hand. The delicate scent of a wildflower.

Enjoy the Mused Summer Solstice 2017 Issue



Herbal Magick- Lavender
Pagan - Ian Edwards, Editor

Learn how to use Lavender in magick and potions.




Some Recommended Walnut Varieties
Landscaping - Connie Krochmal, Editor

A number of walnut tree varieties are available. Here are some recommended varieties.




Project Tutorial - Watercolor Wash in Rebelle
Digital Art and Design - Diane Cipollo, Editor

In this tutorial, we will create a watercolor gradient wash that will be a background for an Instagram social media graphic. We will learn how to use the Watercolor, Blend and Water tools and the wet on wet technique.




Happy Stamp Collectors
Stamps - Gary Eggleston, Editor

Philately, or the study of stamps, is a huge field of study that has captured the attention of many Americans over the years. This fascination with stamps and the history that surrounds them has led to a hobby related to philately, which is collecting stamps.




Collecting U.S. Coins
Coin Collecting - Gary Eggleston, Editor

Some people are born to love money; whether they spend it or just collect it, they are simply born to love the way money provides them the kind of gratification that they need.




2017 World Tea Expo Winners
Tea - Mary Caliendo, Editor

Announcement of 2017 World Tea Expo Winners and what service does the World Tea Expo do for consumers isdiscussed.


| Google+ |
E D I T O R R E C O M M E N D E D
The Eye of Adoption


Jody Cantrell Dyer´s down-to-earth, honest account of her experiences with infertility and the adoption process will have you laughing and crying. Perfect for anyone interested in learning more about adoption!
Ni Hao, Kai- Lan: Super Special Days DVD


This Ni hao, Kai- Lan DVD: super Special Days is great for preschoolers who are fans of the show, or for preschoolers who need help identifying and managing negative emotions.