Beauty & Self
Books & Music
Career
Computers
Education
Family
Food & Wine
Health & Fitness
Hobbies & Crafts
Home & Garden
Money
News & Politics
Relationships
Religion & Spirituality
Sports
Travel & Culture
TV & Movies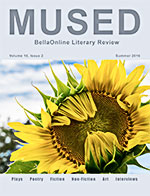 For many people, summertime is the perfect time to explore creativity. Plein air artists bring easels to gardens and beaches, showcasing nature's colors in oils, acrylics, and watercolors. Photographers ferret out a million sights to immortalize. Poets and writers stretch languidly beneath a shady oak tree, listening to the gentle buzz of insects, and constructing entire worlds out of the ether.

Enjoy the creativity of our community of artists - and then explore your own! We'd love to see your works for upcoming issues!

Summer Solstice 2016 issue of Mused

The Haunted Castle of Illinois
Paranormal - Deena Budd, Editor

Villa Kathrine is a Moorish-like castle built on a bluff overlooking the Mississippi River in Quincy, Illinois. It has such an interesting history that I am not surprised to find a few spirits involved in the legend as well.




Woven Picot Flower Robina Melville
Tatting - Georgia Seitz, Editor

Robina Melville demonstrates how to make a dense center on a tatted flower by weaving long picots.




Reducing College Stress
Distance Learning - Patricia Pedraza-Nafziger, Editor

Creating a balanced lifestyle is a great way to begin minimizing stresses in your life. Managing your activities and organizing them in a fashion that makes the most of your time is one the keys to eliminating factors associated with stress.




Dali chi Bhaji Recipe
Indian Food - Sadhana Ginde, Editor

Dali chi Bhaji or usal (Stir Fried Moong Dal) is a tasty & easy to prepare dish that's packed with protein. This healthy Maharashtrian recipe can be eaten for breakfast, as a tea time snack or as a part of any delicious Indian meal. This dish is pure vegetarian, vegan, low carb & gluten free too.




The Beaches of Coronado
California - Korie Beth Brown, Ph.D. , Editor

Looking for a great San Diego area beach? Coronado Island has plenty of them!




Virabhadrasana II
Yoga - Korie Beth Brown, Editor

Virabhadrasana II is one of the key standing poses. It's important to use it for more than just a way into and out of other open hip poses.


| Google+ |
E D I T O R R E C O M M E N D E D
Itīs An Animalīs Life


Shopping is fun at Itīs An Animalīs Life. When youīre looking for the perfect animal gift, look no further.