Beauty & Self
Books & Music
Career
Computers
Education
Family
Food & Wine
Health & Fitness
Hobbies & Crafts
Home & Garden
Money
News & Politics
Relationships
Religion & Spirituality
Sports
Travel & Culture
TV & Movies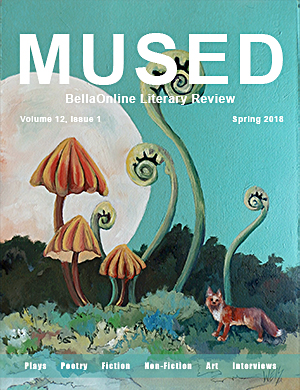 It can seem sometimes as if our world is whirling faster than we can keep up with. It can become overwhelming. Exhausting.

A balm which rejuvenates is to explore the creative efforts of individuals around us. To begin, turn off the noise and clatter of the world at large. Take a deep breath and instead focus on connecting with one fellow human being who presents their jewel of a thought to you. Examine it mindfully. Consider its meaning. Soak in the moment with this one human. Then connect with another. And another.

Enjoy the Mused Spring Equinox 2018 Issue



What Gogin Taught Me
Senior Issues - Pamela Slaughter, Editor

This article shares a story about the impact that a loving person can have in the life of a child; it encourages the reader to consider being a loving person in the life of someone that needs it.




Roxanne's, Carpinteria
Knitting - Korie Beth Brown, Ph.D., Editor

Driving through Santa Barbara County? Take a stop in the quiet beach town of Carpinteria! You'll enjoy the colorful offerings of this Carpinteria craft store, which offers more than knitting.




Four Works of Easwaran Eknath
Yoga - Korie Beth Brown, Editor

These tomes will not end up in your giveaway pile!




Graduation Preparation
Daughters - Tuculia Washington, Editor

High school graduation is a major milestone in your daughters life. Check out a list of things that will blow you away. Also, included are tips on scholarships, colleges and more.




Blueberries Benefits & Healthy Blueberry Recipes
Nutrition - Moss Greene, Editor

The health Benefits of blueberries makes them superheroes. Use these tasty, low calorie healthy blueberry recipes for disease prevention blueberry benefits.




Shopping for Scents
Fragrance - Juliette Samuel, Editor

Shopping for scents has become a ritual, so to speak, for each new season.You can even do it online.


| Google+ |
E D I T O R R E C O M M E N D E D
TomTom ONE 130s GPS


Looking for a great GPS unit for your car? The TomTom ONE 130s is a great, moderately priced GPS system with text to speech capabilities. Spoken street names and TomTom´s EasyPort mounting system make this a terrific GPS unit!
Spirit Beach - Paranormal Romance Novel


When Renee Simone stumbles on the legend of John Henry Covington, the man with the mesmerizing eyes in the ominous portrait at the Covington B & B she and Adrian find out too late that a vampire's lust for love and blood never dies. Fear grows as the gusty sea spray and wind persuasively invites her to a personal audience with a ghost… "I´ve been waiting for you, Renee."
Caillou Goes Back to School DVD


Caillou Goes Back to School DVD is great for kids who are Caillou fans, and other kids who enjoy watching shows that depict family life.